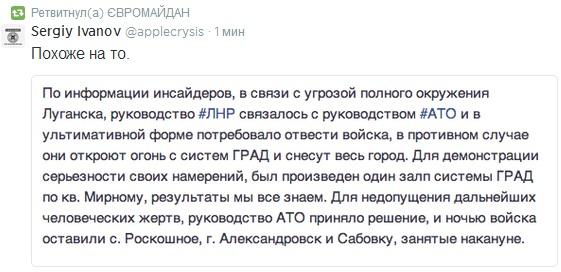 Translation:
Retweeted by EUROMAIDAN
Sergiy Ivanov @applecrysis - 1 min
Looks like it.
According to insider information, due to the threat of a complete encirclement of Luhansk the leadership of the #LPR got in touch with the leadership of the #ATO and in the form of an ultimatum demanded to withdraw forces, otherwise they will open fire from the GRAD systems and will destroy the whole city. To demonstrate the seriousness of their intents, they carried out one salvo of the GRAD system against the Mirny district, the results we all know. In order to prevent further loss of human lives, the ATO leadership made a decision, and during the night the forces left the village Roskoshnoye, the town of Alexandrovsk, and the village of Sabovka, which were captured earlier.



This is the most stupid explanation of a retreat that I ever read.




But the fact itself is important, the junta is departing from the settlements that were captured during the attempt to unblock

http://cassad-eng.livejournal.com/23539.html

the Luhansk airport.




According to the currently unconfirmed announcements, in the settlements that were cleared from the junta the LPR already sets up its checkpoints.





"The Metallist is currently fiercely attacked by the 30-th – this is a mechanized brigade of the punitive troops from Novograd-Volynsky (Zhitomir region). Our guys stand like a wall and don't take even one step back, there will be a lot

of

Georgian crosses.


At 2am by local time near the Dolzhansky checkpoint the militia took a nice bite of the Ukrs.
Also Sabovka, Alexandrovka, and Roskoshnoye were recaptured from the punitive troops – currently the LPR fighters are setting up checkpoints there.
Under Luhansk the natural gas depot is burning.
Over the last three days 17 civilians died, and 73 were wounded by shrapnel and gunfire.

The junta already confirmed the retreat.




The ATO forces without a single shot left Alexandrovsk, Sabovka, Roskoshnoye, and Beloye. An informed source in the armed forces provides this information. According to our source, the order to retreat was received from the headquarters. The airport is encircled again.
"The question is, and what did the guys die for on Sunday? To withdraw?" – said our source.
Earlier it was announced that on July 13th through Roskoshnoye with fighting passed a large convoy of the Ukrainian armor and vehicles. Later it was announced that the Luhansk airport was unblocked and that a "semi-circle" was created around the regional center. We remind that on June 16th the ATO forces liberated the settlement Metallist, but got the order to retreat.

http://informator.lg.ua/?p=9284 – link (in Russian)

So that it is more clear.




Alexandrovka essentially lies in the foundation of the intestine, which the junta breached to the airport with its mechanized detachments. They don't have enough forces to protect the stretched flanks of this intestine. If the junta gave up Alexandrovka and Roskoshnoye, then the airport ended up again in a complete encirclement, and due to the strengthening of the air defense of the LPR (today the junta officially declares that it stops flights) and the increased garrison, the questions of supplies will arise even more sharply again in the nearest future.

The reasons for the retreat are quite understandable, there was simply nothing with which to keep the beaten corridor to the airport, that is why after jostling the vehicles and supplies into the airport the junta started to retreat without solving the question of lifting the airport blockade. It can be stated that the LPR militia got its first major tactical success. Because the junta cannot admit the purely military (and in essence correct) reasons for the retreat, the junta propagandists start to invent absolutely idiotic reasons in order to explain the suffered losses on the background of meager results.

PS. According to Lyashko in the area of Saur-mogila on July 13th the militia battery (apparently, D-30) hit the positions of the 72-th brigade – 7 dead and more than 20 wounded.

Original article: http://colonelcassad.livejournal.com/1668948.html (in Russian)